PUNXSUTAWNEY — A new entertainment facility opened in Punxsutawney a month ago, bringing a state-of-the-art, multi-sport simulator to the area, offering endless entertainment even on the rainiest of days.
Mike Blose, owner of MB Golf and Entertainment, first started looking into the simulation system because of his son, Michael Blose. His son is an avid golfer and mentioned it to him. The pair started discussing the need for one in the area, and were only met with positive feedback.
Blose started reaching out to companies, deciding on a Full Swing simulator, and soon made a deal with the company from California.
The facility is located at 32 McHugh Avenue, just off Walston Road below the high school. It is open seven days a week from 8 a.m. to 11 p.m.
"This is so realistic, this is as close as you're going to get to doing the real thing outside. The biggest thing people are amazed at, they can't believe they can actually hit a golf ball just like they do outside," Blose said.
The main use of the simulator is for golf, but Blose said it can host a variety of sports. Other "games" available include pitching, quarterback challenge, basketball shootout, home run derby, field goal kicks, soccer, hockey, dodgeball, and carnival games.
"When kids come in here to rent it for a party, what better way to have kids be entertained for a couple of hours? And we have staff present here to guide everybody and assist them in any way they can for what they want to do here, but it's more than just golf. I think the majority of this is going to be used for golf simulating, but over and above that for parties and special events, the multi-sport comes in to play," Blose said.
The golf simulator is a full-swing simulator that uses infrared technology with high speed cameras to track a multitude of statistics for the user. Users can choose from a number of golf courses featured on the PGA Tour, and golf on a digitally-rendered copy of the courses.
For those not interested in completing a full round of golf, there is also a driving range option, and a putting green inside the building.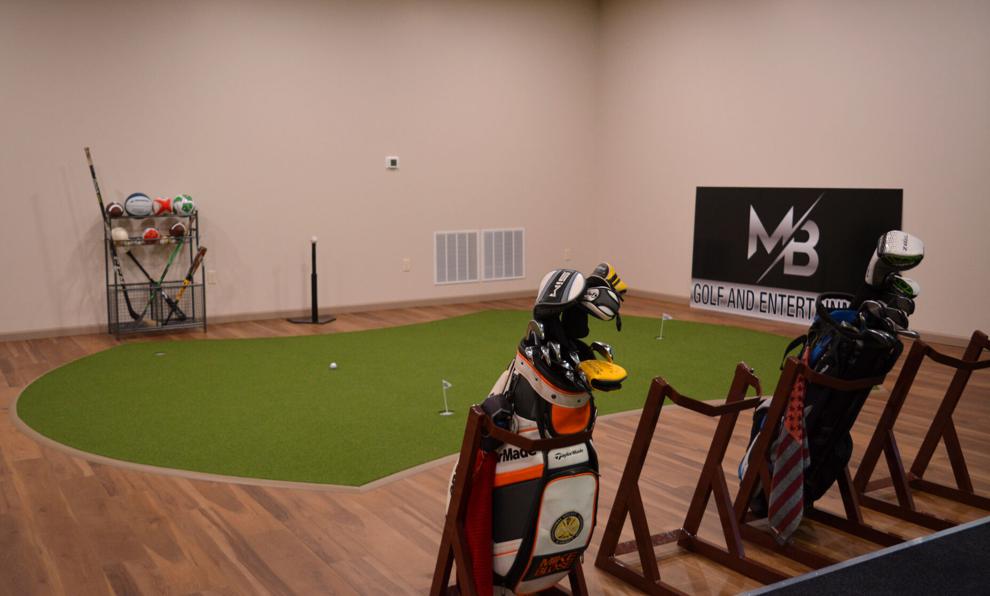 "Dr. Kevin Merrow –Merrow Chiropractic –has been my key technical support person in marketing the new business and setting up the online booking and payment options for our customers. Kevin is also a Titleist Performance Institute (TPI) certified instructor and has been helping golfers for the past 12 years in his practice. He is now working with our customers on ways to improve their golf fitness, so they improve their mobility and prevent injuries," Blose said.
Full Swing has the highest quality graphics of any simulator on the market, according to Blose. The company is the officially licensed simulator of the PGA Tour, and makes the players experience feel like the real thing.
"These are all PGA golf courses, so when I go on one of these, this is the actual view that it's going to look like if you were on that actual course" Blose said.
The screen is 12-by-16 feet and handles the golfer hitting a real golf ball from the tee in front of the screen with a "full swing."
"Chad Krawcyzk, of CK Golf Instruction, is also part of our staff. He has been an assistant golf pro in the surrounding area for eight years. Chad has started the 'MAKE GOLF SIMPLE' movement to help remedy complicated golf instruction. He is giving lessons at our facility now, and is developing a golf academy for kids," Blose said. "Chad is extremely good with the kids, he's done this for eight years."
Blose said the facility is a great option for in the winter or on rainy days when golfing outside isn't available, or for training and practice. The simulator offers many stats for the user to evaluate and adjust during their game. The infrared cameras play a slow motion replay of the user's swing before showing stats like swing speed, ball speed, ball height, roll distance and more. The statistics will also average themselves throughout a game for golfers to see.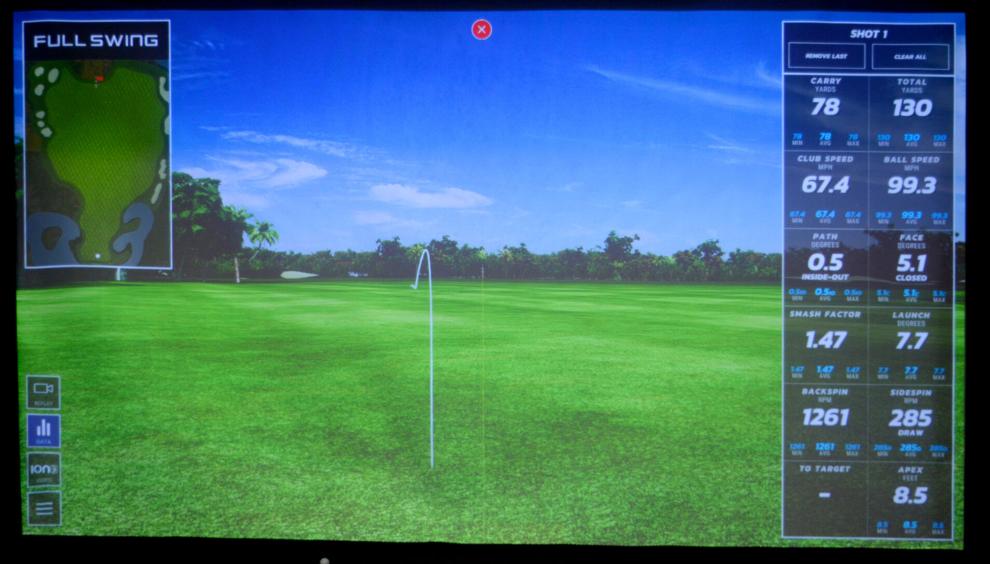 These statistics are also available for any of the other games available through the multi-sport software. Pitchers can see their speed, batters can see their distance, and kickers can see their speed and height.
"That's what guys like to do, they like to see this information coming… They can look at these stats here and they can see exactly what they were doing right or wrong," Blose said. "I think it's very innovative and it's so realistic."
The facility is available for parties and special event rentals, or just for an afternoon of golf or sports with friends.
"What else people like about this is the privacy. There's other of these simulators in bars… and people said they like to come down here because they have their own privacy and it's quiet," Blose said.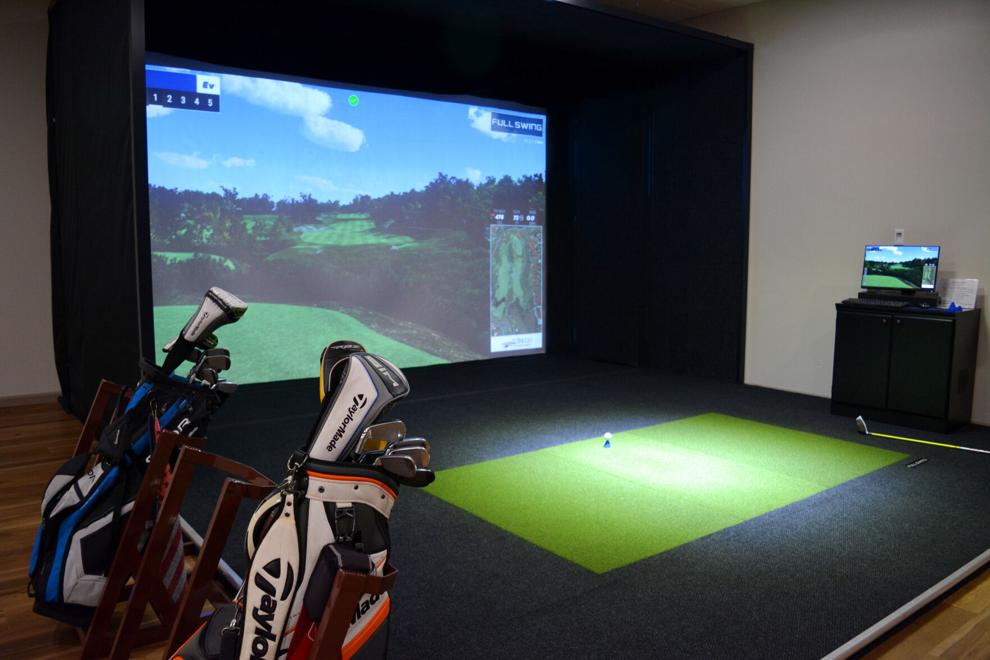 He also has plans to have leagues at the facility and eventually a pro shop for players to be fitted for clubs and equipment. He wants to have some of the clubs at the facility for people to try, helping them to make a decision on what works best for them based on the stats they see.
https://www.thecourierexpress.com/news/mb-entertainment-new-golf-multi-sport-simulator-opens-in-punxsutawney/article_f12285ce-98cf-11ec-b616-575376449be1.html