When Emily Gauger moved to Oregon three years ago, her new home came with a garage that she said was just begging for a creative touch.
Driving back and forth to see her family in western Iowa, Gauger would pass barns emblazoned with blocks of color.
Those were barn quilts – large squares of wood painted to look like a quilt block and hung on the exterior of buildings – and they were exactly what Gauger wanted to add new life to her garage. And as a stay-at-home mom of three kids for the past 10 years, she said she had the time to engage her creative side.
Starting in late 2019, she began making the barn quilts as gifts for friends and family. Then, the start of the pandemic gave her the nudge to go public with her works.
"During that time, a lot of people were decorating windows – it was a way to connect with people even though separated – saying 'Here I am, and I see you,'" she said. "I realized having art on the exterior of our homes is a way to connect with people. I appreciate the concept of public art as something that connects us."
She created her own quilt block painting and mounted it on her garage. It became the first of many as now she is selling her hand-painted barn quilts through her business Good Courage Handmade.
The business was named for the Bible passage Joshua 1:9, "be strong and of good courage," a reference to the fact it was started by Gauger with "with a leap of faith and some mustered-up courage," she said.
"Originally it was a Biblical term," she said. "It was a reference about having the guts to do something never done before and putting yourself out there. I am not an artist. I had always been artsy/craftsy, but had never put myself out there."
She wasn't entirely an amateur when she began, though. Her dad is a carpenter so she grew up around handicraft work, she said. She also worked for a stained-glass art studio for around five years.
"Making things with my hands – I have always been drawn to that – I am genetically predisposed," she said. "Stained glass is somewhat similar, with putting geometric shapes together and building a whole from parts. There is a relation there, and this seems like a natural progression."
Gauger began by doing a lot of reading on traditional quilt designs and patterns, she said. Many are passed down generation to generation. She has taken a lot of those designs and adapted them to her own color schemes.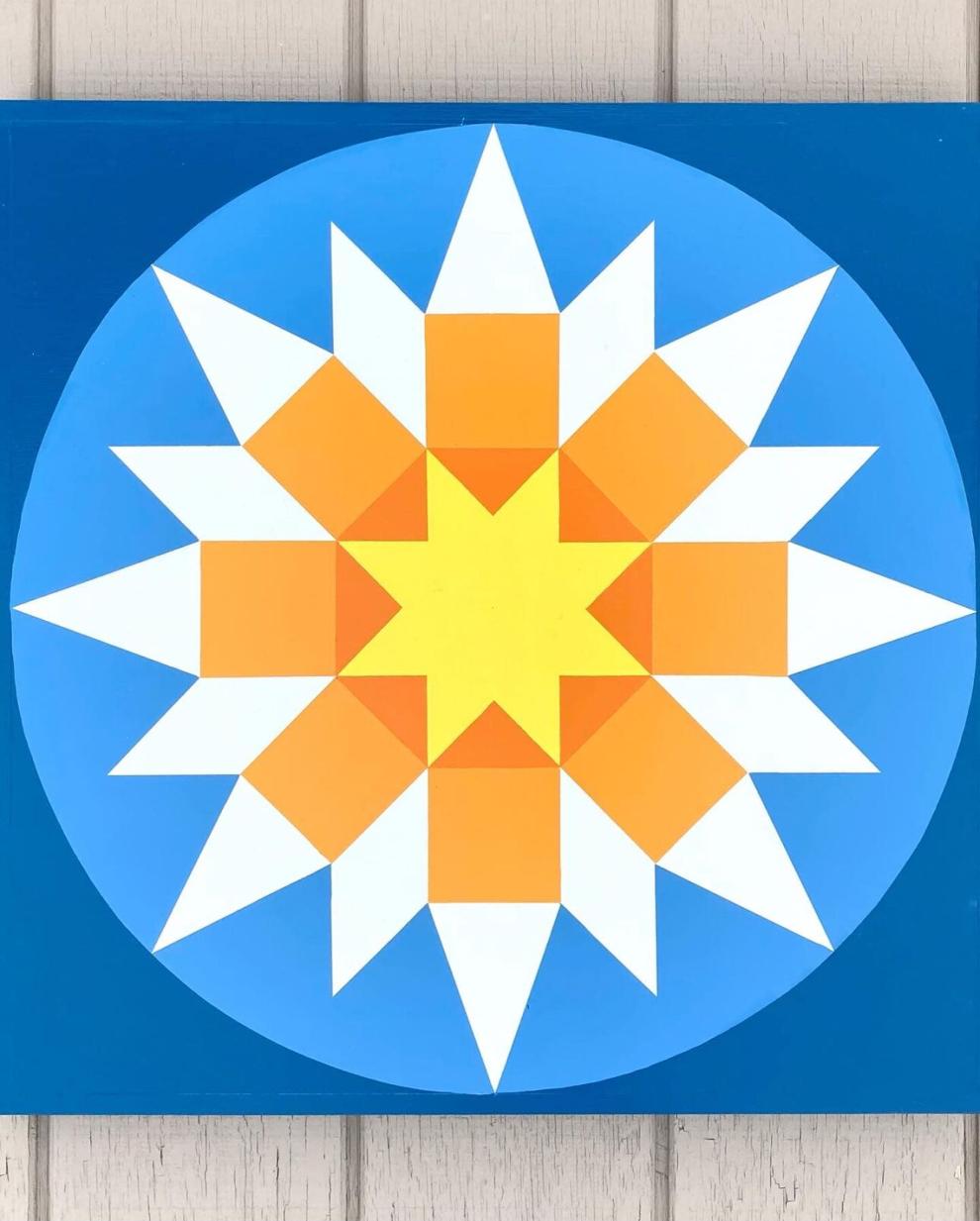 Her husband helped her figure out how to build the wooden frames and panels to be able to withstand the elements.
"Once we figured that part out – doing the designing and painting came naturally," she said. "I love color – that's the easier part. It's really just personal preferences of what I like and it's fun and easy."
The panels are made from medium density overlay, an exterior plywood designed for the outdoors. Gauger uses high-quality exterior paint, in multiple layers, which is able to withstand sunlight and moisture, she said.
She offers the squares in various sizes to appeal to as many people as possible. The largest squares are four-foot by four-foot, and those are as big as she can handle in her studio, she said.
The smaller sizes she offers are to make the squares accessible to everyone, since the larger sizes take a whole crew to put up.
"Some people don't have those resources," she said. "I want even little old ladies to share art with their communities."
Determining designs
While it can vary depending on the complexity of design, on average it takes about two weeks for Gauger to create a square, she said.
Part of that process includes deciding on a specific color and design to match the exterior of the home, barn or garage.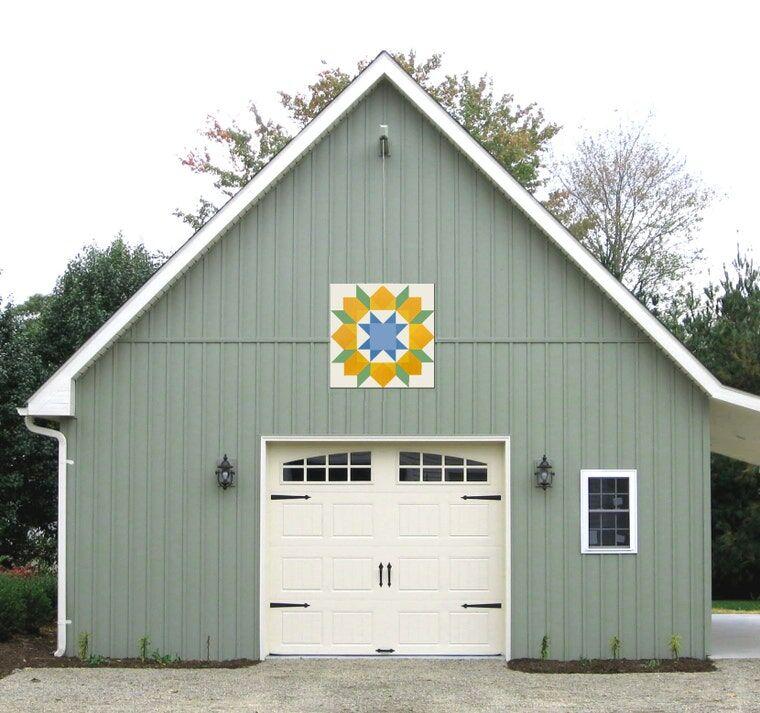 Despite having made nearly three dozen so far, she said it's difficult to pick a favorite.
"Really I love all of them," she said. "There is a real sense of satisfaction when I finish a piece. I hate to see all of them go, but I get to enjoy sharing them and having people see them."
But if she had to pick one, it would probably be one she made as a gift for her dad, she said. Her family in Iowa has an old, weathered and gray barn on their property, which her father converted into a space for playing guitar.
"I liked giving him something bright – a pop of color on a gray barn – I love to see it when I go home," she said. "It has sentimental meaning to me."
While usually she does abstract geometric patterns, she said she likes when someone requests something more specific, such as a monarch butterfly she recently completed.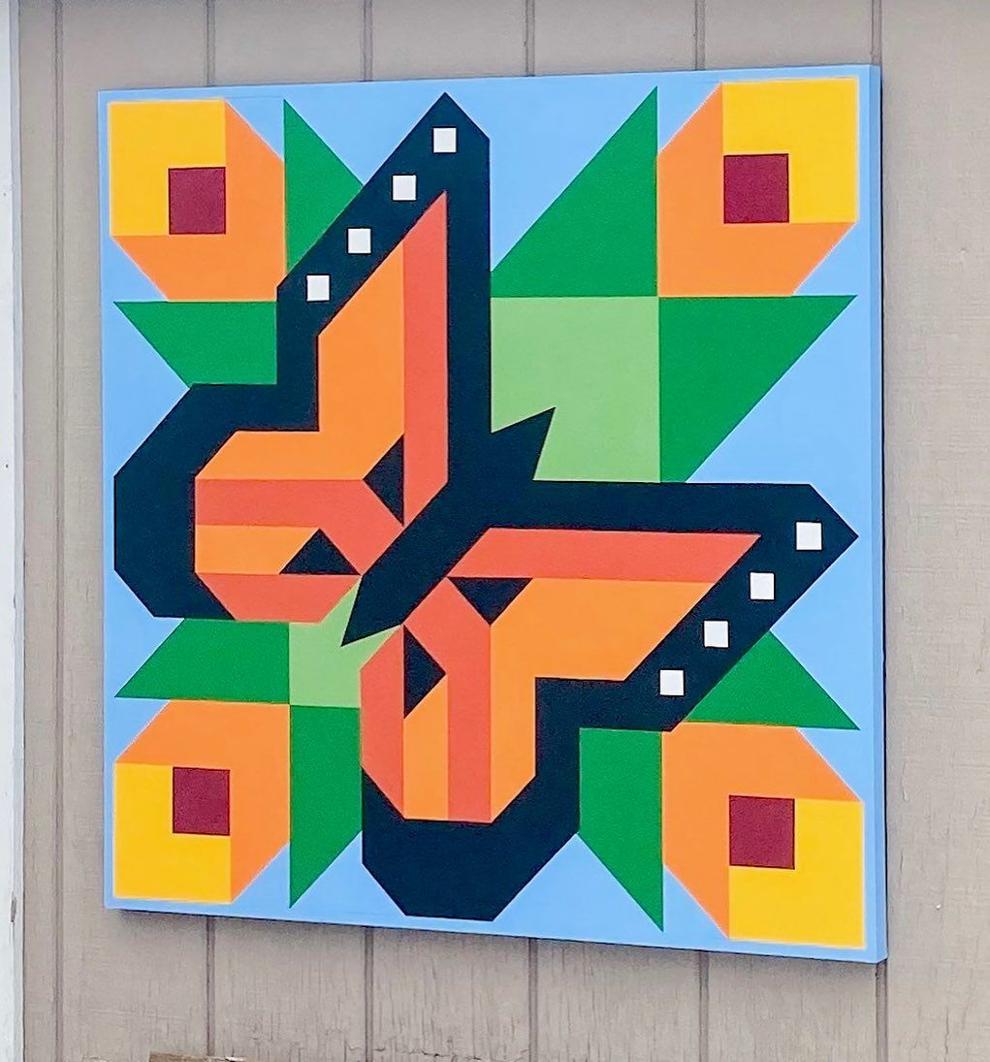 "That particular one was a departure from what I had done, it was a challenge," she said. "The client is interested in conservation and hopes to have her yard designated as an official monarch sanctuary."
Someone also asked for a quilt with a cardinal pattern recently.
Taking commissions is a collaborative process, Gauger said. Sometimes people have a particular picture they have seen they'd like to emulate, but other times people say they don't know what they want, so Gauger will research quilt patterns based on their needs and give them four or five options to choose from.
Perhaps her most notable commission was for Eugster's Farm Market in Stoughton, which has an eight-foot square (two four-foot panels put together).
Overall, so far, Gauger has been satisfied with Good Courage Handmade's success.
"I don't have grandiose visions, I like to be small, I don't want to be too big," she said. "My family is my focus at this stage. I don't have any desire to grow behind what I am able to handle at this stage of the game. My goal is to connect with people and other artists – collaborate, network. I would like to connect more locally with other artists and businesses in Dane County and Oregon. I would like to have more work here in the community."
Creating connections
So far, Gauger estimates she has sold around 20-30 quilt squares in total both locally and across the Midwest. She has a webstore through Etsy and had a booth at the Middleton and Fitchburg farmers' markets. She also recently took some pieces to the Monroe Art Market, an art store.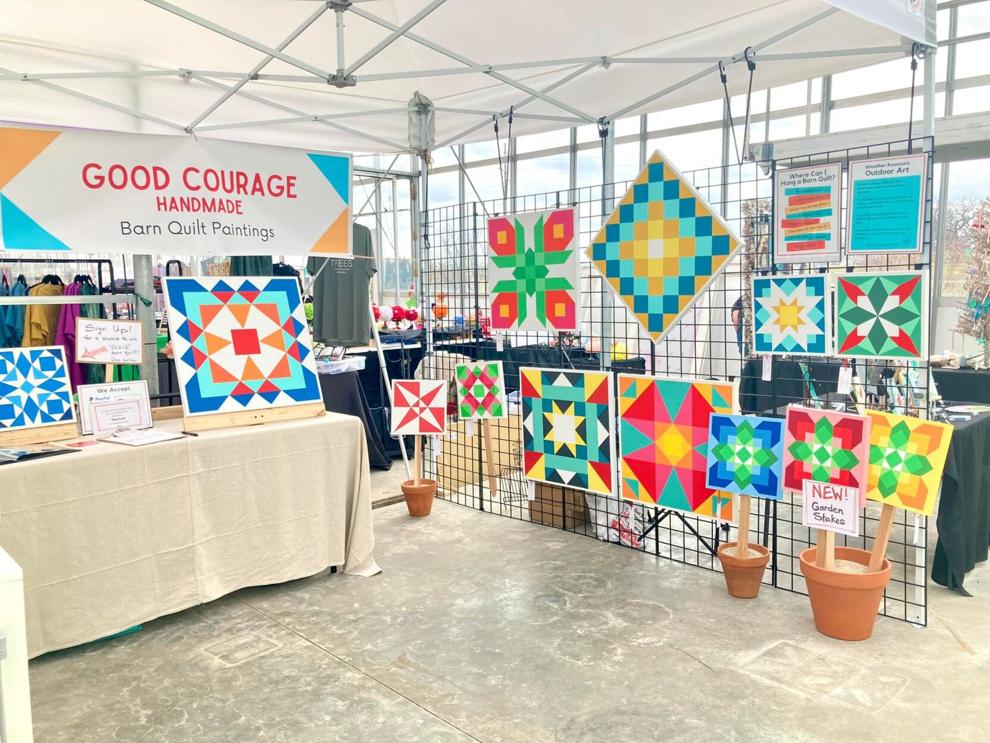 The markets are a good way to connect with people locally and get a lot of good feedback, which has been encouraging, she said.
"People are seeing my work and asking about it and wanting to know more about what barn quilts are," she said. "I've been able to connect with people more that way. The Etsy shop is more of a broader audience, I want to connect to people more locally."
Overall, she feels good that she was courageous enough to put her out there for the public to see.
"I've gotten a lot of positive feedback," she said. "Going back to the concept of courage and putting myself out there – it was validation that people want my art and are moved by my art. And as the pandemic winds down, people are hungry to connect and I want to be able to find ways to do that and going to the farmers markets was really validating, to see that yes, this is something people enjoy – that bid to connect really matters to people."
She self-promotes through her Facebook and Instagram pages, though she had some trouble last autumn after being hacked – shutting her out of her page for a while, but now she's regained control.
As for finding time to be creative while managing a household and raising kids – a full-time job in itself, "I'm still working on that," Gauger said. "It's a process. This art is something I can really only do part time."
While now she does most of her work during the day while her kids are at school, during the virtual schooling period of the pandemic, she would slip away to her studio as a way to give everyone at home space.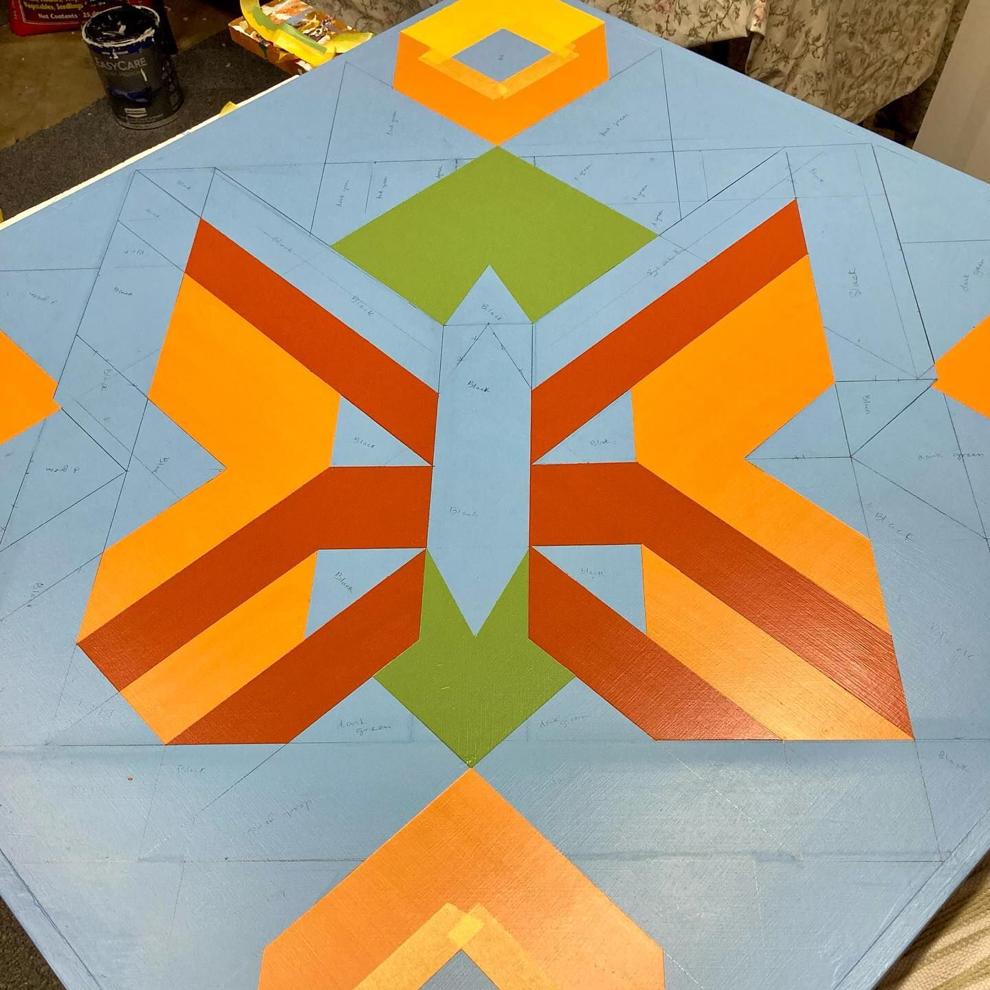 https://www.oregonobserver.com/news/community/coloring-communities-courageously-emily-gauger-s-barn-quilts-are-creating-splashes-of-color-around-dane/article_a573ed74-a276-11ec-a1f8-0f8cb4ffe455.html